Yes, I know "chai tea" is redundant.
Chai is the Hindi word for tea and refers to any type of tea.
But in the west, chai refers to a specific type of tea.
It has become synonymous with that the Indians call masala chai, a blend of black tea (usually), various spices, milk and sugar.
That's why you often see it called chai tea.
Notice I wrote "various spices" above.
That is because recipes for chai can differ considerably. The spices used can differ, the tea used can differ, even the milk and the sweetener can differ.
So which one to get?
That is not an easy question to answer. That is why I have gathered the best chai teas available online below and compared them in terms of flavor and the form (loose leaf, tea bags, or powder).
Hopefully this will help you choose the best option for you. Personally, I always prefer a loose leaf tea.
They require a bit more work to brew, since you need an infuser (you can find the best infusers here and the best teapots with infusers here), but the quality is always higher for loose teas (read loose leaf vs. bags for more).
Check out the following chart comparing each of the top chais available, to give you a better idea which option might be best for you. Below the chart, I go into more detail on each tea.
Chai Tea Comparison Chart
Product
Verdict
Form
Flavor
Cost/Cup
Rishi Organic Masala Chai

Check Price
Best Overall
Loose Leaf
Spicy
30 cents
Republic of Tea Chai

Check Price
Best tea bags
Tea Bags
Spicy
22 cents
Blue Lotus Masala Chai

Check Price
Best powder
Powder
Spicy
16 cents
Big Train Chai Latte

Check Price
Best western style
Powder
Sweet
52 cents
Tazo Organic Chai Tea Bags

Check Price
Best value
tea bags
Tea Bags
Spicy
15 cents
Stash Tea Loose Leaf Chai

Check Price
Best sweeter
loose leaf
Loose Leaf
Sweet and Spicy
42 cents
David Rio Tiger Spice Chai

Check Price
Easiest to
prepare
Powder
Spicy
71 cents
Brew La La Chai Green Tea

Check Price
Best with
green tea
Tea Bags
Mildly Sweet
19 cents
Best Chai Teas Reviewed
Below you'll find brief reviews of our favorite chai tea blends on the market. All are great. Which one is best for you depends on your personal tastes and preferences.
Rishi Organic Loose Leaf Masala Chai
Our Verdict: Best overall and best loose leaf
If you're an avid loose leaf drinker, then you'll love this latest option by Rishi Masala, which produces one of the most authentic Indian-style products on the market. It contains organic black pepper, cloves, ginger root, cardamom, cinnamon, and black tea.
This tea has a powerful spicy flavor that any serious tea drinker will appreciate. Since it's a loose leaf blend, you'll need to use a strainer to prevent tea leaves and dust from floating in your cup. For some, the blend may be too strong and spicy, but if you prefer the Indian-style chai over the western, you'll appreciate the spice and the all-organic ingredients and earthy flavor.
Pros
All organic ingredients
Indian-style blend
Organic black tea
Spicy flavor
Low price
Cons
May be too strong for those used to western-style blends
You'll want an infuser to brew it
Conclusion
This chai is USDA certified organic and really packs a punch. This Indian-style tea offers a rich, spicy, earthy flavor that may be too much for those used to western-style mixes. But if you're looking for a chai that offers a more authentic taste, this is as good as it gets.
The Republic Of Tea Chai Black Tea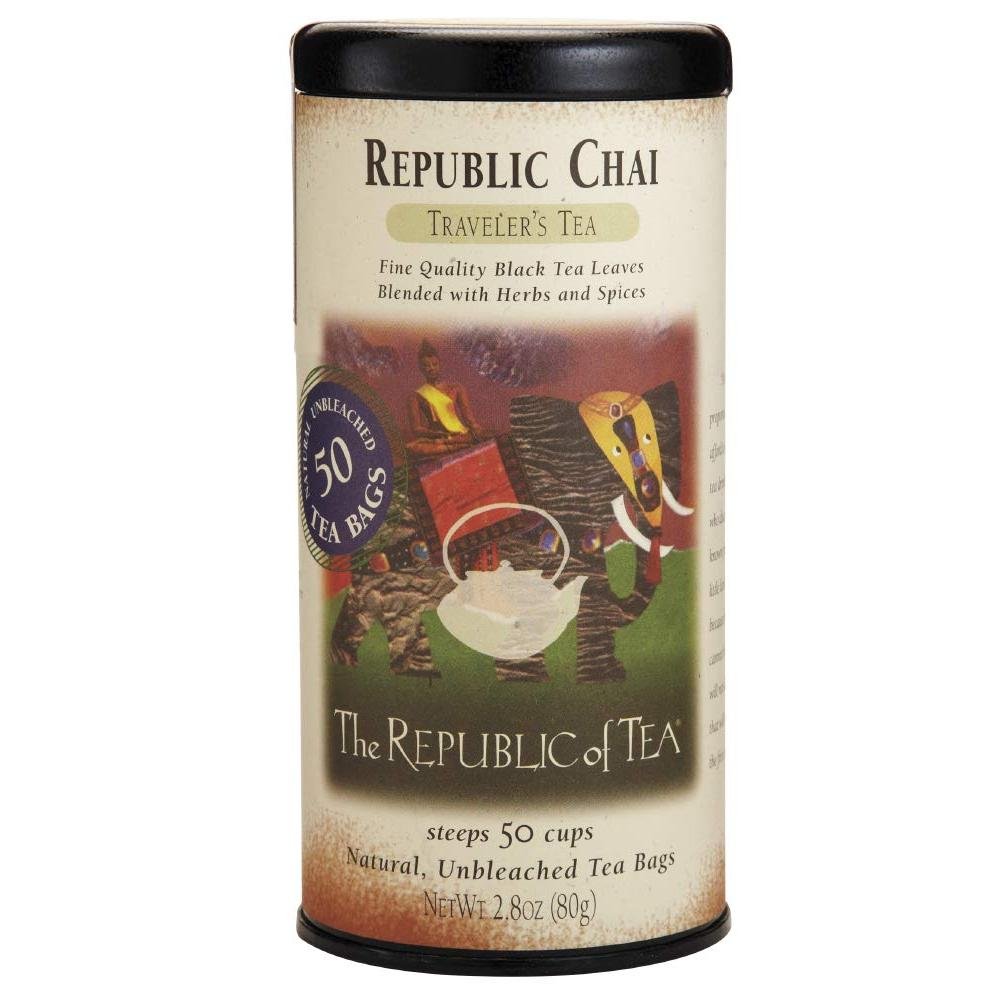 Our Verdict: Best tea bags
This tea contains imperial spices and Northern Indian tea leaves, providing an earthy flavor. It contains cardamom seeds, black pepper, cloves, Chinese star anise, ginger, orange peel, and cinnamon.
This blend is unsweetened, so you can add the sweeteners of your choosing, such as raw sugar, white sugar, brown sugar, or honey. Or no sweetener at all (my recommendation). It works great for chai latte or dirty chai, too.
This chai can be prepared hot or iced and requires just one tea bag per six ounces of water. Steep the bag for three to five minutes, depending on your strength preference. If you're making iced tea, you'll want to use two tea bags.
Pros
Carb-free
Calorie-free
Non-GMO
Spicy
Cons
Not a good choice if you're looking for western-style chai
Conclusion
The Republic of Tea offers a blend that's more reminiscent of Indian-style chai, which means it has a spicy bite to it, with a subtle sweetness.
If you're used to western-style chai, then you'll probably want a sweeter blend (though you can always add your own sweetener). If you want to try chai the traditional way, this powerful blend offers an authentic taste that any connoisseur will appreciate.
Blue Lotus Traditional Masala Chai
Our Verdict: Best powder
This tea was the winner of the 2019 Sofi award, due to its authentic, powerful blend and Blue Lotus is one of the best herbal tea brands on the market. This Blue Lotus offering features a traditional Indian blend made out of one hundred percent certified organic spices.
It contains organic, flash dried black tea that offers a richer, fuller flavor. Since it doesn't contain any additives, it's carb, sugar, and gluten-free. In addition to the black tea, it contains ginger, cardamom, nutmeg, black pepper, cinnamon and cloves.
Pros
Gluten-free
Vegan
Organic ingredients
Sugar-free
Carb-free
Powdered tea (this might be a con for some—see conclusion below)
Cons
Powdered tea (this might be a pro for some—see below)
Conclusion
If you're looking for a more authentic tasting tea, this product by Blue Lotus is a great option. For the serious tea drinker, the fact that the tea is processed into powder may be a drawback.
Many tea connoisseurs snub their noses at anything that is not loose leaf tea. And it is true that loose leaves do offer the freshest flavor.
However, this blend is not made from ground-up tea leaves, like many powdered teas.
Instead, it is naturally brewed and then dried, so the powder is actually brewed tea with the water removed. It retains the original flavor and is more environmentally friendly, since it weighs less and also requires less packaging.
However you feel about the powdered form, the Blue Lotus Chai blend offers a rich, full, earthy flavor that tastes great on it own. Or you can customize it with the sweeteners and milk of your choosing.
Big Train Spiced Chai Latte
Our Verdict: Best western style variety
This is a blend that's ready to go, meaning it already contains sweeteners, spices, and black tea. All you have to do is add the water and you can enjoy a hot steaming cup of western-style chai.
This blend contains honey, milk, and sugar. It can be used for both hot or iced drinks and features a much sweeter taste than what some people may prefer.
If you're looking for a basic tea, and one that allows you to customize the flavor and sweetness, then this one isn't for you. But if you're looking for a fast and easy way to enjoy your favorite tea and milk-based drink, then it doesn't get any easier than this.
Pros
Contains milk, spices, tea, and sweeteners
Just add water
Short prep time
Low price
Powder form
Cons
High in sugar
You can't control the level of sweetness
Conclusion
If you're looking for a western-style blend that contains all the ingredients, including the milk and sweeteners, then the Big Train tea is perfect. All you need to do is add hot water and you can instantly enjoy a steaming cup of chai in the comfort of your own home.
However, if you have a milk allergy, are on a dairy-free diet, or you're looking for a blend that's low in sugar, then you'll be disappointed with this ready to go option.
This tea is also featured in our comparison of the best instant teas on the market.
Tazo Organic Chai Tea Bags
Our Verdict: Best value tea bags
Tazo is a popular brand that's known for its extensive line of loose leaf teas and tea bags. Their version of the classic chia leans more toward the traditional Indian recipe and contains black pepper, cardamom, and cinnamon.
It features a warm, spicy flavor that's not overwhelming and contains organic black tea. It can be served hot or over ice. Since it doesn't contain any additives, you can add the milk and sweeteners of your choosing, allowing you to customize the flavor based on personal preference.
Pros
Sugar-free
Organic black tea
Can be served hot or cold
Spicy flavor
Traditional recipe
Cons
Not a good option if you're looking for western-style chai
Conclusion
This is an all-natural, organic blend that many tea drinkers appreciate, especially since it doesn't contain any sweeteners. You can make your drink as spicy or as sweet as you like.
The organic black tea packs plenty of caffeine, making this a great drink to prepare first thing in the morning. The tea bags make it convenient to enjoy your favorite tea on the go.
Stash Tea Chai Spice Black Loose Leaf Tea
Our Verdict: Best sweeter loose leaf
If you never prepare tea without your loose leaf infuser, then you'll love this loose leaf blend by Stash tea. If you know a thing or two about tea, then you're already aware that loose leaf is usually higher quality and offers the freshest taste.
This particular blend consists of cardamom, cloves, allspice, cinnamon, ginger, and black tea. These spices give the tea a spicy flavor that's slightly sweet. The premium black tea also packs some kick and will definitely get you up and going in the morning.
Pros
Loose leaf
Spicy sweet flavor
No calories
Sugar-free
Cons
May taste too earthy if you're used to western-style tea
Conclusion
This tea is the best option if you normally prefer western-style chai, but you want to try a blend that's more Indian inspired. Using black tea leaves, it offers a subtle sweet and spicy flavor.
Since the tea is in loose leaf form, you know it contains only the freshest ingredients, unlike most teas in bag form. If you're interested in a mild Indian-style chai, this product is a great option, especially if you prefer loose leaf tea.
David Rio Tiger Spice Chai Mix
Our Verdict: Easiest to prepare
This chai blend by David Rio is called Tiger Spice and it's one of the best teas to drink in the morning. It contains all-natural spices, although the manufacturer does not disclose all of the ingredients.
Considering the spicy, earthy flavor, I can assume it contains many of the same ingredients that are used in most Indian-inspired mixes, like ginger, black peppercorn, cloves, cardamom, and cinnamon. In addition to the spices, organic tea is used. It is sugar and carb-free.
Pros
Indian-inspired blend
Organic spices
Sugar and carb-free
Gluten-free
Spicy flavor
Cons
This blend may taste too bitter for some tea drinkers
Powder form
Conclusion
The organic spices and black tea work together to create an earthy spicy taste that can be somewhat bitter if left to steep for too long. Since it is in powder form, you won't need to use an infuser or have to worry about tea dirt floating in your cup.
Of course, the fact that it's processed in this manner also means that it's not as fresh as a traditional loose leaf variety. In the end, it offers the type of earthy rich flavor that's very reminiscent of a traditional chai recipe.
Brew La La Organic Chai Spice Green Tea
Our Rating: Best version made with green tea
If you're looking to get the benefits of drinking green tea, you may want to opt for this healthy option that's loaded with antioxidants. It contains ginger, cardamom, cinnamon, and other organic spices.
Since it's made with green tea, it's lower in caffeine than most varieties made with black tea, making it a better choice for people who are caffeine sensitive. It is USDA certified and does not contain any additives. It is processed and packaged in tea bags that are made out of biodegradable materials.
Pros
Biodegradable tea bags
Lower in caffeine compared to blends made with black tea
Mild flavor
Indian-inspired
Cons
Lower caffeine content may be a deal-breaker for some tea drinkers
Conclusion
This tea has a milder taste than ones made with black tea and features a slightly spicy, rich Indian-inspired recipe that contains all-natural ingredients. The foil wrapped tea bags allow you to drink your tea at the office, or when you're out on the go.
The lower caffeine content may be a pro or a con, depending on whether you're caffeine sensitive or looking for a blend that can help you get going in the morning.
Chai Tea Buyer's Guide
If you're not a fan of traditional teas, simply because you're looking for something sweeter, then you'll love chai.
But what is chai exactly?
Traditionally, it contains sweetener, milk, spices, and black tea. The word "chai" is actually Hindi for "tea" and can be used to refer to a variety of teas made in India.
In the western world, when someone refers to chai, they usually mean masala chai, which is Hindi for spiced tea. This is the type of tea you will find in pretty much every tea house or coffee shop in America.
There are a variety of chai recipes found all over the world and it can differ from culture to culture or even continent to continent. The traditional ingredients include a mixture of strong spices like black peppercorns, ginger, cloves, cardamom, cinnamon, and of course, black tea.
Tea used is generally brewed strong. Milk is added, along with a sweetener like honey or sugar. But the standard milk-based drink we often find in the west doesn't have much in common with the chai recipes you'll come across in India.
Note that drinking chai tea will break a fast most of the time. This is due to the sweetener added. Perhaps a small cup would be fine, but once you go over 50 calories consumed, your fast is broken.
Buying Chai
Just like any other type of tea, this one can get stale, though it won't actually go bad. To ensure you're using the freshest blend possible, make sure you purchase it from a reputable company that labels the package with the processing date. It should retain its freshness for six to twelve months from that date.
When storing, make sure you:
Always keep the tea in a dark, cool place
Store it away from moisture, oxygen, light, and heat.
Avoid storing it in the fridge
Keep it in an airtight, opaque container
Never store it in the same place as spices or coffee, since their flavor can leach into the tea
The Right Taste
As mentioned, this drink features a variety of aromatic spices, each of which adds to the sweet-spicy, rich flavor. Honey and milk are traditionally added to provide a creamy consistency and a subtle sweetness.
Chai can be heavily spiced, full-bodied, sweet or smooth, depending on how it's prepared. Since you can customized it to suit your tastes, it is a very versatile drink and one with which you can get creative.
If you're not sure which recipe to follow or which pre-prepared mix to buy, take a close look at the ingredients and go with the one that sounds best. You can always add your own twist to it to suit your tastes.
Health Benefits
Did you know that this drink has been linked to a variety of health benefits? For one, it has been shown to improve heart health.
Studies conducted on mice have shown that one of the main ingredients, cinnamon, has been linked to lower blood pressure, and has even been shown to reduce cholesterol levels and triglycerides by as much as twenty-five percent.
An average cup of chai contains two to six grams of cinnamon, which is in the range of the recommended daily dose.
Because most chai is made with black tea (and others with green) it has all the benefits of regular tea as well. Black tea is believed to lower cholesterol and blood pressure levels. Consuming two to three cups of black tea daily can lower your risk of heart disease by as much as ten percent.
Drinking chai can also reduce blood sugar levels and can even contribute to improved blood sugar control. This is because of the cinnamon and ginger content, both of which can have beneficial effects on blood sugar levels.
Studies have shown that cinnamon can reduce fasting blood sugar levels and insulin resistance by fifteen to thirty percent.
Lower insulin resistance will make it easy for the body to utilize insulin in order to guide the sugar out of the blood and into the cells in the body faster and more efficiently. This immediately lowers blood sugar levels.
The History Of Chai
Chai tea has been around for thousands of years. The story has it that a king ordered a beverage that possessed healing powers and chai was created for use in Ayurveda for just this purpose. Ayurveda is a type of medicinal practice in which spices and herbs are utilized for their healing properties.
For this tea, the heat from the pepper and ginger was thought to help aid in digestion, and the cloves have an antiseptic property that was believed to help reduce pain. Cardamom was added to naturally elevate the mood, while cinnamon was used to support respiratory function and circulation.
The popularity of this beverage that possessed healing powers quickly spread all over India. Some who tried it tweaked the recipe to include a variety of other spices.
These changes often depended on the continent or region the drink was made In many cases, the recipe was changed depending on the ingredients that were available locally.
The original version of masala didn't contain any tea leaves. Sugar and milk were also late additions. The addition of tea, sugar, and milk was what really made this drink popular.
Chai Ingredients
There is no one recipe that defines chai since the traditional version of the beverage varied from family to family and town to town. But there are some ingredients that remain consistent. These include:
Tea
Both Darjeeling and Assam teas are native to India, which is why they're the most popular choices for the drink's base. But you can also find some variations in the types of tea used.
Some people make it with yerba mate, or green teas, or red rooibos. You can also find chai that consists solely of herbal teas, with absolutely no real tea leaves.
Sugar
Some type of sweetener is always used. White or brown sugar is more commonly used than honey. Some recipes may also contain coconut, turbinado, or demerara. Unrefined sugar cane is also common.
Milk
In India, this tea is often made with buffalo milk. For the western version, cow milk is used, or some type of dairy alternative such as coconut, rice, almond, or soy milk. In some recipes, goat or yaks milk is used.
Some recipes require you to steep the tea mixture and spices in water, then use milk to dilute it. Other recipes require you to simmer the spices with milk and water or just straight milk.
Spices
The types of spices used tend to vary by cultural preference, climate, or region. Usually, black peppercorns, cinnamon, cloves, ginger and cardamom, are used since they're readily available in India.
In the west, fennel, star anise, nutmeg, and vanilla are often used. Other popular additions include saffron, cacao, allspice, and bay leaves. In some recipes, cumin and coriander can also show up.
Flavor Of Chai
Because there are so many variations, the flavor can vary greatly, depending on the types of ingredients used. If the drink is very heavy on peppercorns and ginger, it can have a spicy taste.
Other recipes that contain nutmeg, cinnamon, or vanilla, can leave behind a much sweeter flavor. Drinks that have cacao or saffron can have a slightly bitter, earthy taste, while drinks that use cumin or fennel can offer a more savory taste.
Caffeine Content
Since this drink contains black tea, you can expect one cup of chai to contain approximately half the amount of caffeine that you'll find in one cup of coffee. But the caffeine content varies depending on the type and number of tea leaves used and the method in which the drink is brewed.
Since these drink blends can contain different teas and bases, the steeping time and brewing temperature varies. If you're following a recipe, make sure you pay close attention to thee instructions provided in the recipe.
If you bought a pre-made chai like the ones featured above, follow the brewing guide on the package. Here are some general guidelines, in case you don't have any instructions.
General Chai Brewing Tips
Below, you'll find some basic brewing tips that you should follow, if you do not have any other instructions:
You can steep chai in a mixture of milk and water, milk alone, or water alone, based on your personal preference. If the tea came with specific recommendations for that particular brew, make sure you follow them.
If you're making your drink from scratch, then two teaspoons of loose leaf tea blended in eight ounces of water and/or milk will work the best.
Begin with cold filtered water that's fresh. I recommend using spring water.
Make sure you cover the tea as it steeps in order to allow the heat to work its magic.
Steep for five minutes if the drink contains black tea, and up to fifteen minutes if it's an herbal chai blend.
When preparing the drink, heat the milk to a slow boil. Add the desired sweetener and the milk to the tea and spice mix, then strain.
Avoid over-steeping the tea. Doing so could release too much astringency or bitterness from the leaves. Make sure you taste the drink immediately after the recommended steeping time, then determine whether or not it's too weak, in which case you can steep for two to three minutes longer.
Varieties with black tea, generally need to be brewed longer and at a higher temperature than ones with green tea. Basically, the temp you're looking for is around two hundred and twelve degrees, with a steeping time of five to six minutes. Let the drink cool for three to four minutes until it reaches the right temperature for drinking.
The Best Chai: Final Thoughts
Whether you try making your own unique blend, or you purchase it prepackaged, the best chai tea comes loaded with a variety of spices, herbal, black, or green tea, and other ingredients that can provide a variety of health benefits.
The possible benefits include lower insulin resistance, lower blood sugar, lower blood pressure, and lower cholesterol. Chai also contains less caffeine than coffee, so it won't leave you feeling jittery.
And on top of that it tastes great! No matter your personal preference, the fact that it is so versatile allows you to try out different recipes until you find one that suits your palate and one that can help to get you going in the morning.
I hope this guide and the recommendations have helped point you in the right direction and narrowed down your choices so that you can find the perfect blend to wake up to every morning or give you a little boost in the afternoon.